We're thrilled to have teamed up with Bazart, an innovative and energetic community arts group here in St Antonin to offer a week of workshops, creativity and fresh ideas in our beautiful corner of south west France.
You'll learn about screen printing, felting and printing alongside local artists and artisans.  We'll also be taking you out to meet potters and glassworkers in their workshops dotted around the medieval villages and breathtaking countryside in this area.
Our base is St Antonin Noble Val, one of the most beautiful villages in France with a wonderfully preserved medieval centre.  Bazart is based in a medieval townhouse and most of the workshops will take place there.  You'll be staying at our 16th century Auberge, Le Cheval Blanc just a short walk from Bazart.
We're just over an hour from Toulouse and Rodez Airports and we can also be reached by train.
All activities will take place in English!
Day 1
Arrival and settling in.  There are no activities planned on the first day, so you'll be free to explore the labyrinth of medieval streets and ancient buildings in St Antonin.  We'll have dinner together in the evening at Le Cheval Blanc (vegetarian).

Day 2
Our first two workshops are with Catherine and are about felting.  In the morning you'll learn basic techniques and make a two dimensional work.  The afternoon is more advanced and you'll make a piece in three dimensions.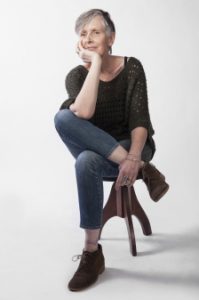 Day 3
We'll be concentrating on screenprinting today with Liz, a textile artist and screen printer.  The morning will be about learning techniques using ready-prepared images.  In the afternoon you'll be printing onto fabrics you've brought with you which could be T shirts, sheets, or whatever takes your fancy.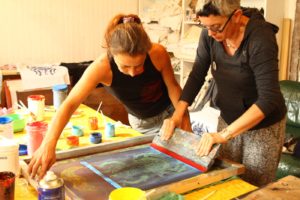 Day 4
We're out and about today with the ceramicist Quercy Golsse at his Cathar village of Puycelsi.  We'll visit his workshop but he'll also introduce us to his village.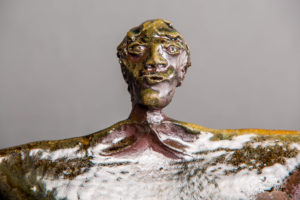 Day 5
Another day out today, this time to the spectacular village of Cordes Sur Ciel, an ancient, almost vertical citadel further up the valley.  There we'll meet Emilie Thomas, a local glassworker who'll introduce us both to her village and to her work

Day 6
Today we'll start with a foraging expedition to gather material for plant imprinting.  We'll use what we've found to make plant images on silk or wool sheets which you'll take home with you.  After 3 weeks they'll be ready to unwrap and admire!
Day 7
Sunday is a highlight of the week in St Antonin as it's market day.  The narrow streets are suddenly filled with colourful stalls and people from all around the region and beyond.  You can stock up with local produce and wares produced by local artisans, or sit outside the café in the main square and people watch.  Either way it's a centuries old traditional part of French rural life to be savoured.
In the afternoon when the market traders have left you'll enjoy a historical tour of the village.  By now you'll be familiar with all the ancient buildings, but learning something of their history gives a deeper understanding of what makes St Antonin such a special place.

We'll finish the week by sharing dinner at Le Cheval Blanc.
Day 8
It's the end of your adventure and time to go home!
Included:
Bed and Breakfast accommodation at Le Cheval Blanc in a shared en suite room
All workshops and excursions
Dinner on first and last nights
Picnic for the foraging day
Not Included:
Transport to and from St Antonin
All food other than listed above (we're happy to recommend restaurants or you can self-cater)
Price:
€950 per person based on a shared room.  Single occupancy may be available for a supplement.